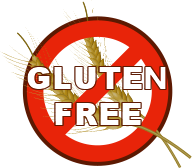 Approximately 2 years ago I was diagnosed with Celiac Disease at the Mayo Clinic.
I had been struggling with acid reflux for my entire life (40 plus years) and had always blown it off as "mental stress." The culmination of my digestive issues were some incredibly painful cysts throughout my GI system. My blood test showed I was negative for Celiac but a tissue sample during my colonoscopy showed definitively positive.
Celiac disease is a digestive disorder that damages the small intestine. The disease is triggered by ingesting foods containing gluten. Gluten is a protein found in wheat, barley, rye and is commonly found in foods like bread, pasta, cookies and cakes. Gluten is also present in most beers, and depending on your sensitivity spirits can also carry the proteins. Gluten reactions can present both inside and outside the body. For example, if I consume a wheat or rye whiskey, I will have small blisters that appear on my wrists, hands and forehead. If I drink beer with high concentrations of gluten protein, my neck will break out in hives. Gluten does not cause a severe reaction (if you discount the digestive discomfort and formation of cysts in my GI) but it can make me feel very ill and cause inflammation in my sinuses and joints. Since removing gluten from my diet, I no longer have acid reflux and my knees and ankles are no longer stiff and sore.
We have had some issues adding the gluten free symbol to our labels. Currently they are not labeled as such because we had to have labels ready and approved prior to purchasing our inputs we use to make our spirits. When it is time for us to purchase new labels, we will be adding the gluten free symbol to the labels. Currently our Rum is labeled as gluten free, and when we release our Barrel Strength Bourbon Whiskey this fall it will also have a gluten free symbol on the label.
All our products are gluten free as well as the mixers we use in the tasting room. We are not using Gluten Free as a sales gimmick, it is very important to us.
Jim Simpson