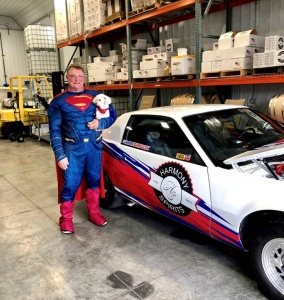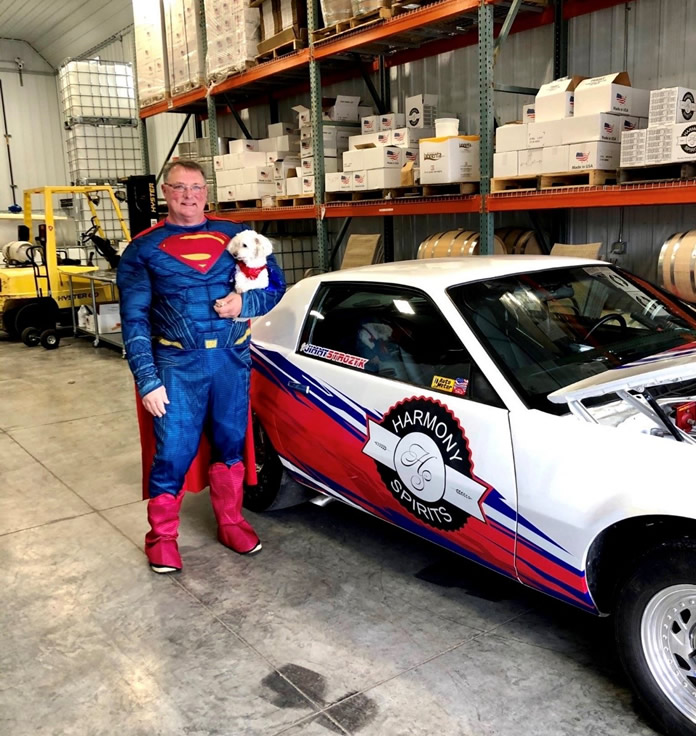 At Harmony Spirits we are lucky to have the support of our local community and friends.  Super Jim Strozyk is one of our local friends we can count on for help with most anything we have going on.
  Jim helps us in many capacities at the distillery in his free time.  He has helped us with sales, bottling, hand sanitizer production, carpentry work and many other things.  Jim hosts the 4
th
of July Car Show in Harmony, MN each year, he got us excited about the annual car show which we have hosted at the distillery the last 2 years.
Super Jim's interest in cars began when he was a young pup.  His then neighbor, Phil Hankins, had a custom car shop.  Phil was a true artist with his automotive paintwork.  Jim started helping Phil with bodywork and painting when he was only 7 years old.  Jim helped Phil with all aspects of automotive work over the next 11 years.  Phil had his own Drag Car and he encouraged Jim to help him work on the car and turned Jim into a regular gearhead.  Jim can list off a slew of names of famous drag racers he was able to meet over the years including: Don Ness (Racecraft), Tommy Hoover (Showtime Funny Car) and many more.  As Jim's passion for custom cars developed over the next 11 years he personally owned and worked on 19 different cars.  The first of which was a '68 Rally Sport Camaro that he purchased directly from Phil.
A couple of Jim's favorite memories include:
In the late 70s He and Phil had 5 cars they painted entered in The World of Wheels show in St. Paul, MN.
Jim and Phil also painted John Hagen's last Pro Stock car in 1983. Later in 1983 John crashed that car at BIR and passed later from injuries sustained in the accident.  John's passing was a very sad day for Jim personally and the entire Racing World.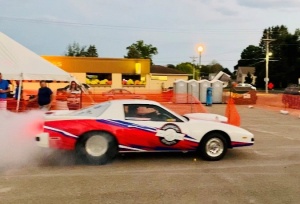 Jim's always had a passion for cars and owned many.  His latest car is a '69 Pro Street Camaro Jeff Cheney (Cheney Performance) rebuilt the engine and upgraded the tranny and chassis.  It was an old nostalgia drag car rebuilt for the street.  Jim has won twice at Carcraft Summer Nationals in St. Paul 2007 best engine compartment, 2010 won top 10 over 5,000 other cars.  That was one of Jim's biggest awards outside of World of Wheels.
Jim also has a '85 Pontiac Firebird that was previously owned and raced by Bill Ash.  Bill had it set up as a Super Gas Drag Car.  After Bill passed, Jim purchased the Firebird from his family.  Brian Sample rebuilt the Firebird for Jim as a Bracket Car.  After some body work on the Firebird Harmony Spirits sponsored Jim's Firebird with custom Harmony Spirits graphics.
Make sure you check out the awesome car show the Jim and his wife Sandy put on at Harmony Spirits each July 4th.  There are many other activities in Harmony, MN on the 4th of July each year.  In 2021 we will be celebrating the 125th Anniversary of Harmony throughout the 4th of July weekend!