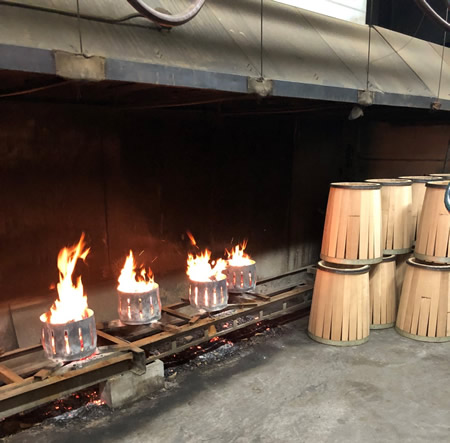 We choose to buy our barrels from The Barrel Mill in Avon, Minnesota, because they are a locally owned company, keeping everything as Minnesotan as they can.
Last summer we had the pleasure of touring The Barrel Mill cooperage. We think one of the reasons that they make the best barrels is that prior to charring the barrels they are toasted over oak chips. Toasting the barrels prior to charring helps to draw the oak sugar to the interior portion of the staves. This in turn allows the spirits aged in the barrel increased access to that wonderful oak flavor.
The Barrel Mill® is a cooperage in Central Minnesota specializing in Premium Barrels. Their products are made from the finest Oak they can find, hand-selected and aged to perfection.
Their family has been in the lumber business for over 100 years. In 2004 an opportunity arose to buy a cooperage that had gone out of business. Through their knowledge of wood, extensive investments in new machinery and technology, they have built a brand that represents quality-aging products for the beverage industry and custom wood displays for marketing all sorts of products.
We at Harmony Spirits would like to "Toast" The Barrel Mill for their fantastic barrels!
It would only be proper to make that toast with a glass of Harmony Spirits Bourbon Whiskey. Cheers!