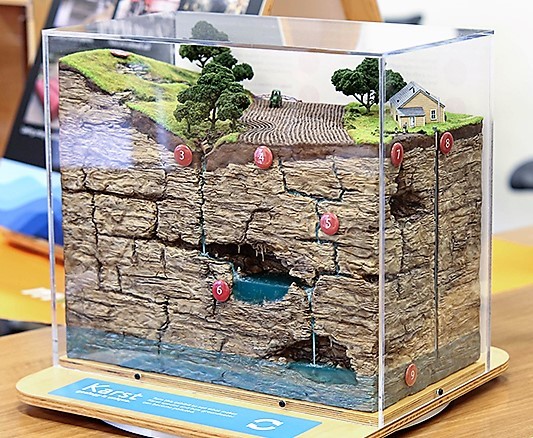 Our water in Harmony, Minn., comes from three wells ranging from 704 to 1222 feet deep, that draw water from the Prairie Du Chien-Jordan and Prairie du Chien-Wonewoc aquifers.
The Prairie du Chien-Jordan aquifer and the Prairie du Chien-Wonewoc aquifer are part of a sequence of sedimentary bedrock units in southeast Minnesota. The Jordan Sandstone is a white to yellow, fine- to coarse-grained sandstone. The Prairie du Chien Group comprises two dolomitic formations that are vuggy and fractured and interbedded with thin layers of shale.
Karst topography is quite prevalent in the SE area of Minnesota due to the type of surface bedrock. The bedrock in this region is very close to the surface due to the thin layer of topsoil being deposited by glaciers. Giving SE MN the designation as a "driftless area."
The information above is important because in Harmony, Minnesota, we have a very similar water source to that of Kentucky, the birthplace of Bourbon. Water sources and their unique and distinctive attributes have a huge impact on the specific flavors and qualities of spirits from around the world. Kentucky's limestone water supply provides minerals to the water, filters out undesirable compounds and affects pH levels, which play a key role in the distillation process. At Harmony Spirits we have fantastic water quality thanks to our Karst Topography and limestone filtration and this helps us to craft spirits with unique and distinctive flavors. Cheers!