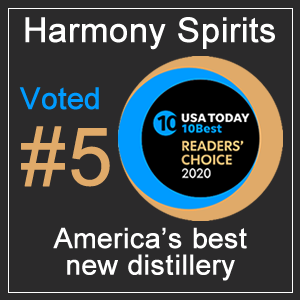 Harmony Spirits is a winner in the 2020 USA TODAY 10Best Readers' Choice travel award contest for Best New Craft Distillery.
The distillery was
nominated as one of 20 new distilleries nationwide and received fifth place
in the contest after an outpouring of voter support throughout the country.
"We are humbled and honored to win a national award," says Jim Simpson, Harmony Spirits owner. "The supporters of our business are phenomenal and we are grateful that we can deliver them a high-quality product."
Harmony Spirits produces a wide variety of distilled spirits including bourbon, rum, whiskey, and vodka. Much to the delight of spirit connoisseurs, the distillery has recently added gin and barrel strength bourbon to their product offerings.
For more information on Harmony Spirits, check out the distillery's webpage harmonyspirits.net, follow "Harmony Spirits" on Facebook, or tune in to the Garage Logic podcast where Harmony Spirits is a featured sponsor. Harmony Spirits' products are sold throughout SE Minnesota and the Twin Cities region. Inquiries and questions can also be directed to: contact@harmonyspirits.net.