We are thrilled to announce the release of our first batch of Straight Bourbon Whiskey (in August 2021)!!
The designation of "Straight" for a Bourbon Whiskey means it has been barreled for two or more years.
On May 4th, 1964, the United States Congress recognized Bourbon Whiskey as a "distinctive product of the United States." The Federal Standards of Identity for Distilled Spirits (27 CFR 5) state that bourbon must meet the following requirements: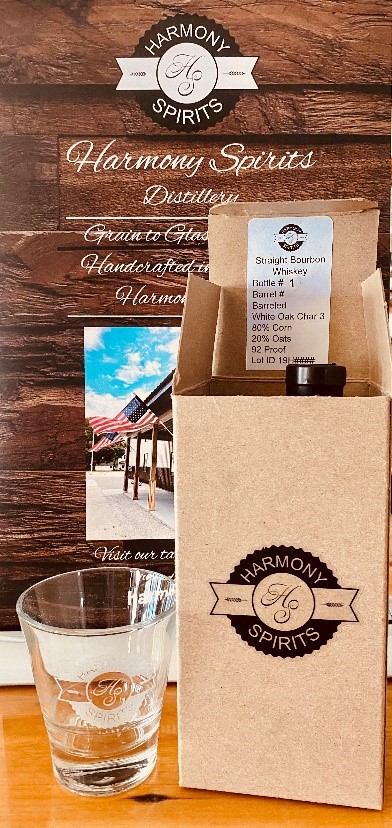 Bourbon must be made of a grain mixture that is at least 51% Corn.
Bourbon must be distilled to no more than 160 proof.
Bourbon must be aged in new, charred oak barrels.
Bourbon may not be barreled at higher that 125 proof.
Bourbon which meets the above requirements and has been aged for a minimum of 2 years, may be called Straight Bourbon.
Bourbon aged for a period less than 4 years must be labeled with the duration of its aging.
If an age is stated on the label, it must be the age of the youngest whiskey in the bottle.
Only whiskey produced in the Unites States can be called Bourbon.
We are pre-selling the first 200 bottles in a commemorative box (pictured) that also includes a limited release laser etched "rocks" glass!! The first 200 bottles will be numbered and packaged in a box with batch information. You pick your bottle number (1-200) – order early to get the best selection!! The price per box is $50.
To order: Send us a Facebook message (preferred), stop in the tasting room, or call us.
Payment is required at the time of purchase (payment is simple online – we will send you an invoice you can pay with a credit card).
No holds on boxes without payment.
To pick-up: Boxes will be available for pick-up in our tasting room starting September 1st at noon or any date there after.
Thanks for your ongoing support – we appreciate you all!
Cheers,
The HS Crew