Harmony Spirits Hand Sanitizer
To help support efforts to minimize the spread of COVID-19 in the local area, Harmony Spirits will be producing hand sanitizer.
The sanitizer produced is made using the recipe provided by the World Health Organization.
Hand Sanitizer available to purchase at Harmony Spirits Monday-Saturday from 9 a.m. to 5 p.m.
$7-12oz | $17-32oz
Gallon Bulk Available on Pre-Order Only – Minimum 5 Gallons
Only one person at a time inside to purchase.
Watch the KTTC story "From whiskey to hand sanitizer: Harmony Spirits helps COVID-19 effort "
Please read the Q&A below.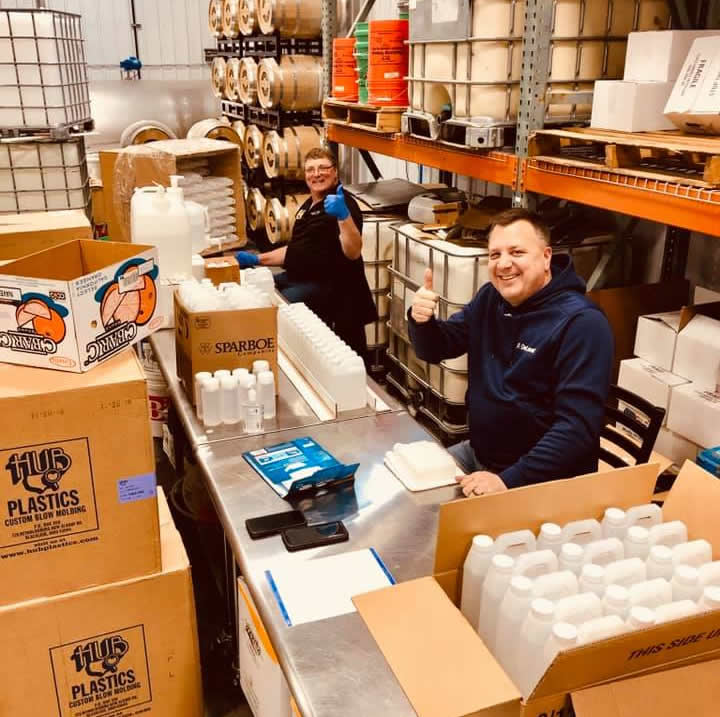 We are thrilled that our hand sanitizer has had such a great reception! Because we are overwhelmed with comments and questions, please take a minute to read the Q&A information below before reaching out (as of April 7):
1. When and where can I get hand sanitizer?
Hand sanitizer is available on site at Harmony Spirits tasting room. Right now, only 32oz bottles are available for sale. Hand sanitizer can be purchased from 9am to 5pm Monday – Saturday. No need to call ahead or pre-order. 12 oz bottles are on the way and may be available later next week.

2. How much is it?
32 oz bottles are $17 and when available, 12 oz bottles are $7.
3. Can you ship it?
Due to multiple regulations and the expense of shipping flammables, we cannot ship sanitizer. It can only be picked up on site in our tasting room. We may be able to stock a few local businesses by next week.
4. What is the consistency/smell like?
The sanitizer is made using the recipe required by the WHO. It has a liquid consistency and an alcohol smell. It does not have aloe or other mixers. Note: if you choose to mix this with anything, we are unable to guarantee the effectiveness (due to reduction in alcohol level with additional mixers)
Thanks so much for your patience and support. While you're here, don't forget to pick up a bottle of your favorite spirit(s) and some Harmony Spirits gear!!
Stay well! Cheers!